There's nothing like hitting a perfect shot.
Improving feel. Improving games.
Golfers know there's nothing like hitting a perfect shot: you know, the one that brings you back. At PURE Grips, we want golfers to experience that feeling more often. That's why we've applied the latest in modern technology to the one place where golfers connect with their clubs: the grip.
Moisture Management
PURE Grips blend of rubber is incredibly water resistant, drying faster and retaining more tackiness in wet conditions than other grips which use non-rubber elements.
Customize Your Grips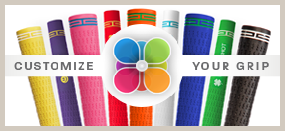 If you're planning to place an order for 150 grips or more, we'll be happy to help you customize your grips with custom colors and even your own logo in place of our own. It's the perfect way to combine high performance with personal taste. Call us today to learn more about set-up costs and the details of customization.