€9.99
Our tackiest grip, the P2 Wrap features a perforated wrap design and fits golfers with standard size hands that prefer a slightly softer, more muted feel at impact. This grip is great for wet or humid locations and for those that really like a tacky feeling grip that will absorb some vibration.
The DTX is our first collaboration with Hank Haney. A combination of contrasting textures, the DTX delivers a great simulation of a cord feel, but adds our seamless molding and rubber technology. Its unique combination of rough and tacky texture is great for any golfer looking for a secure connection with the club, including cord players.
Description
details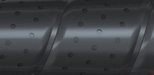 Texture
Tacky – Light Perforation
responsiveness

Weight Variance
All PURE grips are made to industry leading +/- 1 gram weight tolerances. For exact weight specifications, by style and rubber color, please refer to the Weight Specifications Chart here.
Available Sizes:
0.600 Round
Materials:
100% Proprietary Rubber Blend
Feel
Firm